Hi,
I have donated some signed comics (Thanks, Joe!) to a charity auction to benefit THE HAVEN FOUNDATION (
http://www.thehavenfdn.org
). The Haven Foundation is a national, nonprofit organization making grants to freelance writers and artists experiencing career-threatening illness, accident, natural disaster or other emergency or personal catastrophe.
- - - -
Locke & Key set signed by Joe Hill
Here is a set of Issues #1 from each of the first three story arcs in Joe Hill's series, LOCKE & KEY. These are all First Printings and, even better, one is a Retail Incentive Variant which is rarer than the regular issue. All three were signed by Joe Hill, as witnessed by a few members of this website, at his recent book tour stop at Booksmith on Haight in San Francisco on March 4, 2010. This set of three signed comics comes with the bookstore's event flyer listing Joe's appearance .
Up for auction as a set:
L&K: Welcome to Lovecraft, Issue #1, First Printing - signed by Joe Hill
L&K: Head Games, Issue #1 Retailer Sketch Variant (less common than the regular issue) - signed by Joe Hill
L&K: Crown of Shadows, Issue #1, First Printing - signed by Joe Hill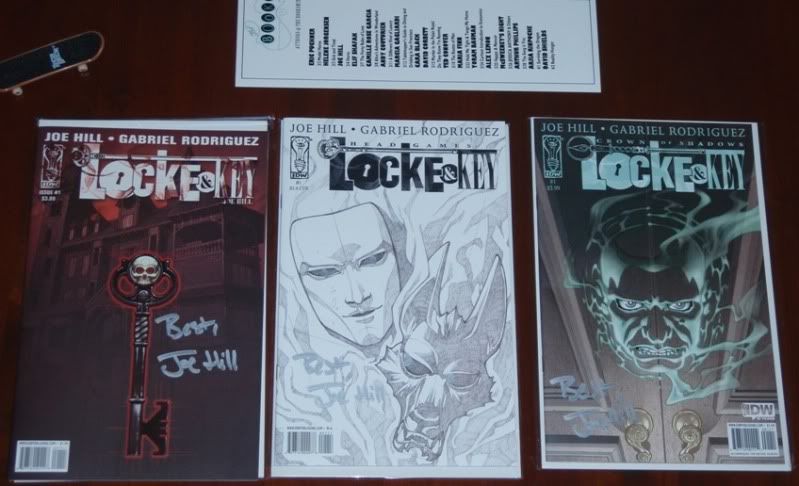 I don't want to sound like I'm pimping another site, despite the legit good cause, so PM me if you're interested in a link as the auction is for the benefit of The Haven Foundation, but not on their website. The auction ends in a few days.
Thanks.
- Patrick
p.s. Joe or Shane, I'll PM you the link, but please remove this post if it violates any site rules. Thanks.