Here are Joe's blog posts (which can still be seen in the blog archives) from the first Chalk-Off with the accompanying photos restored (as many as I could recover) and which have been unseen for many months since the site had been hacked last year. I figured that a lot of people would be interested in seeing them, as it's getting closer to Chalk-Off II time.




--------------------------------------------------------------------------------

September 13, 2007:

It's over.

My thanks to everyone who took my goofy idea – to spend an afternoon out in the driveway/sidewalk, recreating an image from a classic 80s arcade game in chalk – and ran with it. Shane and I found something to impress or amuse or entertain in just about every pixel-tastic entry. The judging was difficult, but now is done, and we have reached our conclusions.

And the winning entry is: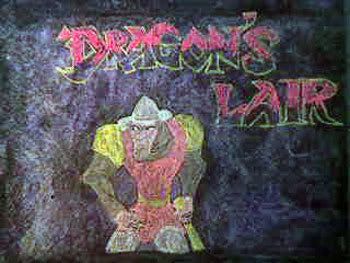 - lovingly illustrated by K. from Indiana. Just looking at this frighteningly accurate depiction of Dirk the Daring from Dragon's Lair, makes me want to shout: "Hurrmph! Gleee! Whazoo!"

K. from Indiana, I've got your address, and will be mailing you your prize (iPod with audiobook), as soon as the audiobook is available. Congratulations!

Prizes were also promised to four runner-ups. They were:




2nd Place, Rampage, by R.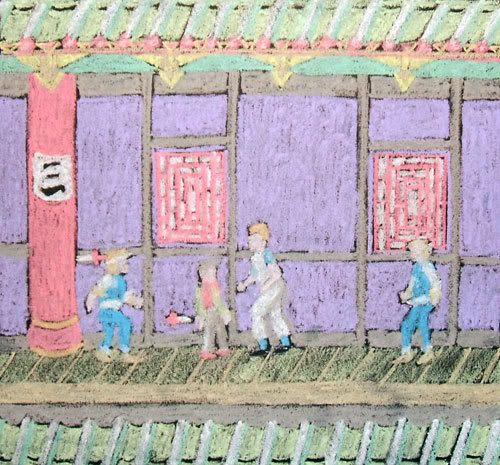 3rd Place, KungFuMaster, by C. (Pop over to the Wikipedia entry on KungFuMaster if you don't remember the game, and stare in awe at the accuracy of this chalk rendering).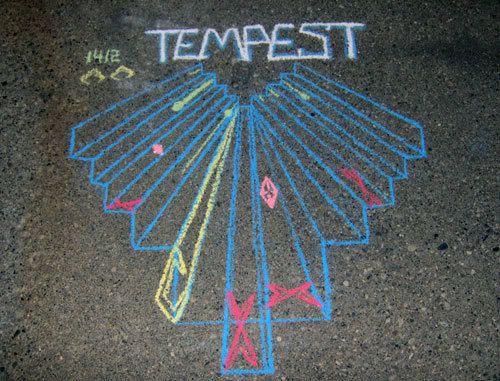 4th Place, Tempest, by L.




5th Place, Donkey Kong jr., by N.

If I don't have addresses for you already, I'll be in touch with you soon to get them so I can mail you your prizes.

There were several other entries that only narrowly missed making this top five. Sympathies to those who didn't step into the winner's circle this year… but c'mon back and take another stab this time next year.


--------------------------------------------------------------------------------

August 30, 2007:




Less than 48 hours to go before this year's competition is over. Who got game? Send your entries here. Don't wait, or it'll be too late. The minutes are falling away faster than the bombs drop in Kaboom!

In other news, there's going to be a modest redesign here at joehillfiction, both to prepare for the American publication of 20TH CENTURY GHOSTS in early October, and to update a few things that needed updating. Things might be a little bumpy around here for a few weeks, but keep checking back. We'll get our shit together eventually.


--------------------------------------------------------------------------------

August 20, 2007: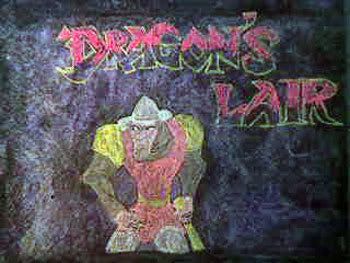 The hero of DRAGON'S LAIR, Dirk the Daring, often found himself with a desperate choice between two options: Go one way and find riches and the Princess Daphne. Go the other and get his ass baked by an angrier, stupider version of Pete's Dragon.

You too are faced with a similar decision between dual options, although in this case the right choice is obvious: enter the chalkoff for a chance to win amazing prizes, or don't and be haunted for the rest of your days by a terrible what-if.

Tick... tick... tick... the clock is running. Less than two weeks to go before the game is up. Get your entry in by e-mailing it here. I'm waiting.

And if it's inspiration you need, just remember the bold words of Dirk the Daring himself: "Glurrrk! Arp. Heh. Wazoooo!"


--------------------------------------------------------------------------------

August 13, 2007:




Only two and a half weeks to go before the August Arcade Chalk-Off is over, and this year's works of art are nothing more than dust in the wind (cue Kansas, my wayward sons and daughters). Where's your entry? You can't win unless you post a picture of your masterpiece here.


Just finding out about the chalk-off now? Scroll down to the July 30th entry for full details. It's not too late to make your mark.


--------------------------------------------------------------------------------

August 9, 2007:




Chalk-off continues. Bonus points to this contestant for including me in the picture... and points taken away for not putting me in first place.

Someone is going to win. Many are going to lose. You can get nothin if you don't send in a drawing. 24 days to go before the chalk settles once and for all.


--------------------------------------------------------------------------------

August 3, 2007: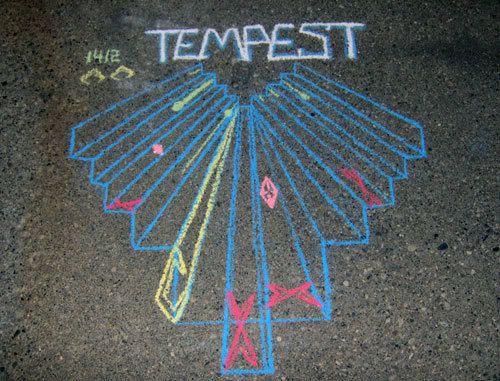 And we're off! The above image of TEMPEST, the classic tube-shooter from 1981, is the very first entry in the chalk-off. Just looking at it makes me want to rollerskate to Kim Carnes.

Here in the heady first days of the August Arcade chalk-off, I thought I'd take a second and answer a few questions I've been asked about the contest.

Q: CAN I SEND YOU MORE THAN ONE ENTRY?

A: Yes - but you will be judged only by the most recent entry you've sent in. So if you do one illustration of CENTIPEDE, and then a couple weeks later send us a chalk rendering of DIG DUG, DIG DUG is the one we're going to consider when it comes time to separate the winnahs from the losahs.

Q: I DON'T HAVE A DIGITAL CAMERA AND CAN'T SEND YOU A DIGITAL PICTURE FILE. CAN I STILL PLAY?

A: email Shane here and he'll give you an address to send your entry.

Q: CAN I POST MY IMAGE ON FLICK'R, MY BLOG, OR SOME OTHER PHOTO SITE, INSTEAD OF SENDING IT IN TO YOU DIRECTLY?

A: Absolutely. Just e-mail us a link to the place where your picture is posted, and we'll check it out.

Q: HOW DO YOU KNOW SOMEONE REALLY DREW THE CHALK PICTURE THEY SENT YOU?

A: We don't. Honor system. However, if we discover someone is using art fraudulently lifted from somewhere else on the web - http://www.oldvideogamesinchalk.com? - they get disqualified.

Okay, that's all for now. Now, c'mon, who's got the balls to attempt Donkey Kong jr.? I'm waiting.


--------------------------------------------------------------------------------

July 30, 2007:

Now announcing joehillfiction's first Annual August Arcade Chalk-off…




The challenge: all who are interested have until the last day of August to draw a scene from a beloved classic arcade game, in chalk, and send it here. This year's theme is 80s stand-up arcade games.

The grand prize: an iPod shuffle with the audiobook of 20TH CENTURY GHOSTS preloaded onto it.*

The runner-ups: 2nd and 3rd place will get copies of "The Saved" and an advanced reader copy of 20TH CENTURY GHOSTS. 4th and 5th place will receive copies of 20TH CENTURY GHOSTS.

The Judges: Shane and yours truly. Points will be awarded for obscurity/geek factor of the game (a scene from Mr. Do will be looked upon with approval), precision of the art, and historical accuracy. Extra credit if you argue convincingly that you listened to Buckner and Garcia's Pac Man Fever while working on your illustration. Extra extra credit if you don't take this too seriously and let one of the kids in your life – children, nephew, niece, etc. – help you out. People who go off-theme will probably not win.

Conditions: You can't work for HarperCollins or PS Publishing or Subterranean Press. And you really can't work for IDW comics (no, Gabriel, you don't get to play). You can't be related to me by blood. You accept by entering that this is an arbitrary and bullshit competition, and that you have no legal footing whatsoever to bitch if you don't win. It's not a sweepstakes. Not everyone has an equal chance of winning. It's a fundamentally senseless and unfair excuse for me to give some stuff away in exchange for some amusing artwork. Hopefully everyone can live with that.

How many people will actually play? I'm betting more than five, less than three hundred. It will be interesting to see. Oh yeah, one other thing: I should mention that by sending Shane an image of your entry, you consent to allow us to republish your submission on this website, or a flick'r photoset, or any other way we feel like… I may post some or all of the pictures we get.

That's all. Go get your game on.




* there will be a wait to get your prize – the audiobook probably won't be finished and complete until the week before 20TH CENTURY GHOSTS's scheduled release in October.